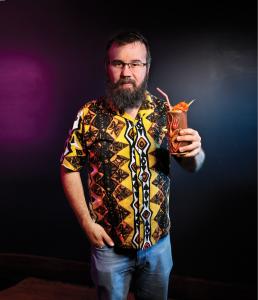 The Indianapolis area is keeping their eyes open for the fall opening of The Inferno Room -"a thinking man's tiki bar" located in Fountain Square. Chris Coy (beverage director of Black Market) and Ed Ruisell (Mass Ave restaurant's co-owner, also of Rook, Thunderbird, and Siam Square) have teamed up to deliver the Indianapolis area an escapist haven fashioning authentic customer favorites.
As an ode to this cocktail veteran, Indianapolis Monthly provides us with a bit of insight on the upcoming location and some of Coy's favorites.
Coy is as ambitious with the ingredients and flavor profiles of cocktails as top chefs are with daring food menus, and he manages to be at once enthusiastic about taking risks and intent on honoring tradition. Expect authentic Mai Tai's (as in, not red or pink), Ti-Punch with pure French West Indies rum, and tapas-style, Asian-inspired tiki fare. As for decor, Coy says The Inferno Room team opted for "more of a jungle-y, voodoo, witch-doctor kind of thing" over the standard beachy, hula-girl take. Escapism will be the name of the game. "It's impossible to have a bad day at a tiki bar," says Coy.
Check out the full article here!