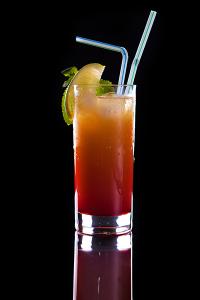 Indianapolis Monthly presents to us Chris Coy's variation on the Mai Tai – a tiki classic.
Black Market beverage director and The Inferno Room's co-owner, Chris Coy says, "The fun of a Mai Tai is finding the blend of rums that works for you. This recipe calls for an ounce of dark Jamaican rum (Plantation O.F.T.D. Overproof) and an ounce of aged rhum agricole (Clément Select Barrel), but it's up to you to decide which ones you like best."
The classic formula is as followed:
Ingredients:
1 ounce Clément Select Barrel rhum agricole
.75 ounce Plantation O.F.T.D. Overproof rum
.5 ounce Pierre Ferrand Dry Curaçao
.25 ounce Wilks & Wilson Adelaide's Orgeat (almond-infused elixir with rose water)
.25 ounce demerara syrup*
1 ounce fresh lime juice
3 drops Bittermens 'Elemakule Tiki bitter
* To make demerara syrup, combine ½ cup demerara sugar, ½ cup regular sugar, and 1 cup water in a saucepan. Heat over low flame, stirring until all sugar is dissolved. Remove from heat and store in refrigerator for up to one month.
Instructions:
Combine all ingredients in a cocktail shaker filled 2/3 of the way with crushed ice. Shake 10­–15 seconds.
Pour into double old-fashioned glass.
Garnish with sprig of mint and lime wedge.